Social media is one of the greatest way for you that helps your business in order to drive more traffic and also to create new leads. Many of the social websites have grown into a gradually important source of website traffic. This creates a huge demand for the data that is related to social media.
There are many such social media platforms that help you to promote you brand more efficiently on social media. Then the question is how you can make such strategies in order to go ahead with your social media marketing?
The ultimate solution is to use open source social media analytics. Social media analytics tools are the most useful and valuable tools that help marketers in competitive intelligence, brand analysis, and campaign tracking. So let us go in detail with social media analytics.
Why Open Source?
There are numerous tools that are widely available for managing all the social media programs. From analytics tool to content management system. But most of the available system are rigid in their architecture and cannot be easily customized in order to meet their governance needs of many organizations. So by generating an open source alternative, companies can simply model their organization on the way to work in the real world.
In general social media, marketers face certain difficulties to access that is better enough to meet needs for moderation, asset management, compliance and workflow etc. so open source is a vital revolution in an industry which can be widely used to overcome all the above problems. Open source offers some of the most compelling benefits business that includes flexibility, security, auditability and quality etc. this the reason why many of the organizations are reaching out to open source.
What is Social media analytics?
Social media analytics is simply the practice of collecting the data from various social media websites and blogs and evaluating that data in order to make your business decisions. The most cooperative use of social media analytics is to extract customer sentiment in order to support customer services activities and marketing.
Importance of Social Media Analytics
If you are utilizing social media analytics to your business, you just can't overlook social media analytical data. With the help of social media monitoring, you can grow the deeper understanding of how individuals are interacting with your brand and also you can know how they use and access your website.
Social media analytics helps you to know more about your customers. The more data you can collect about them, the better position you will be to serve and anticipate their needs.
The benefits of social analytics include:
• More targeted content and posts
• Saving money on marketing and advertising
• A new enhanced content marketing strategy
• The capability to offer enhanced customer service
• The capability to understand the ROI for your investment in the social media
Measure Your Social Media ROI Using Social Media Analytics
Here you will discover how to analyze and collect the data the data that you need to accurately calculate how social media marketing influences your business.
#1: Generate a Custom Segment
The worthy news is that you as of now have information you can portion into control bunches. When somebody visits your site from an online networking system, which is an automated method for recognizing that client and including him/her to reporting under Acquisition > Social.
The test with the information setup is that you have a set number of reports you can view, and you have almost no power over how the information is shown.
#2: Separate Social Media Users in the Data Set
The following stride is to set up the information so you can segregate activity into two groups: social connection clickers and default social users.
Default clients are the individuals who went to your site from social media and are naturally followed by social media Analytics. These clients did not originate from the connections you shared and created.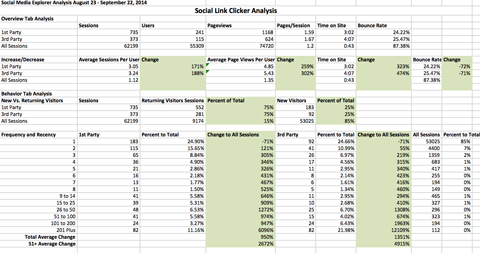 Social link clickers are clients who tapped on the connections you circulated on your online networking properties and the earned traffic that came about because of shares of those particular links.
#3: Analyze the Data
Before you investigate your information, think of a rundown of queries you need the data to reply, and afterward list the measurements you'll use to answer those queries.
Here are a couple of thoughts for queries to reply: Does share substance on social channels impact thought for services and products? Does sharing substance distribute on your site impact a higher or lower affinity for thought? Does curating content impact a higher or lower affinity for thought?
Conclusion:
Measuring the social media ROI using social media analytics is the better thought to know the execution of the social networking advertising of your business. Utilizing the open source social media advertising tools will give you a reasonable vision of what you have accomplished on the social media and what you have to attain more. In this way, other than managing your social media analytics, you ought to focus on checking them through the analytics. In this way, the best thing you can do is utilizing tools that upkeep you for both analytics and social media management.